The world's biggest crypto exchange, Binance, is set to halt transfers to and from U.S. bank accounts beginning Wednesday, February 8. The company tweeted out confirmation of the USD bank transaction suspension on Monday, following early reports from multiple news outlets.
"From February 8th, we will temporarily suspend all USD bank transfers," the exchange's official Twitter account posted. "Only a small proportion of our users will be impacted by this and we are working hard to restart the service as soon as possible," the company added.
Note: Binance is separate from Binance.US—and that exchange's withdrawals and deposits will reportedly be unaffected, according to a post from Binance.US' customer support account. Further, transfers via other fiat currencies like euros won't be impacted by the pause, Binance told Bloomberg.
Gizmodo reached out to Binance for more details about why the exchange is stopping U.S. transfers, but did not immediately receive a response. To CoinDesk, the company noted that just 0.01% of monthly users on Binance engage in USD bank transfers, and said that affected customers were "being notified directly."
G/O Media may get a commission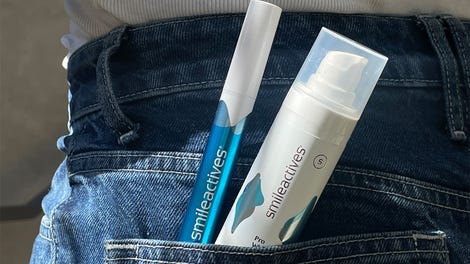 58% off
Whitening Powerhouse Pen & Gel Duo
BRIGHTEN YOUR SMILE
Whiten your teeth at home with Smileactives' one-two punch: the Whitening Powerhouse Pen & Gel Duo. This set will get you the kind of teeth brightening power that uses the same ingredients that dentists rely on for in-office whitening treatments for a fraction of the price.
However, even the limited activity restrictions indicate something must be seriously wrong with Binance's U.S. banking infrastructure.
The issue could stem from a problem with Binance's U.S.-based banking partner, Signature Bank, as suggested by Bloomberg. Crypto exchanges like Binance rely on partners to facilitate the transfer of money back and forth between blockchain wallets and actual bank accounts. And last month, Signature Bank signaled it would significantly cut back on accepting blockchain deposits and exposure to crypto assets. The financial institution announced it would only handle crypto transactions larger than $100,000, according to an earlier Bloomberg report.
A tweet from DB News further suggested that the Binance's problem is tied to a lack of appropriate banking partner. "Suspension Exepected to Last 'A Couple Weeks' Until New Banking Partner Is Established: Person Familiar," the crypt0-focused newswire posted.
Banks have grown increasingly hesitant to do business with blockchain firms in the aftermath of the FTX collapse, wherein the once-second-largest crypto exchange lost everything—customer funds included—due in large part to former CEO's Sam Bankman-Fried's shady dealings.
Though Binance's leadership has repeatedly asserted that it is nothing like FTX, the exchange has nonetheless come up against its own set of issues recently. Binance has resisted a full audit of its finances that could theoretically prove its differences from FTX. The company that Binance contracted to perform an external review quit before it could finish. Then, the company admitted in January that its so-called "stablecoin" wasn't actually as stable as it had suggested. The exchange temporarily stopped withdraws of that coin, USDC, in December 2022 after a spike in activity.
Binance also attracted negative attention last month for its role as a thoroughfare for alleged money laundering, after U.S. federal regulators issued charges against Bitzlato, another crypto exchange.
Even if Binance manages to get its U.S. transfer system back up and running soon, the pause highlights the ongoing instability of the cryptosphere, and gives regulators and financial institutions even more reason to remain wary. Though actual spring may be coming soon, Crypto winter could be here to stay for another season.
Trending Products

.