A secretive Israeli cyber company is engineering ongoing influence operations directed at elections all over the world, a consortium of more than 30 news organizations reports. The CEO of the company, a former Israeli special forces agent named Tal Hanan, boasted to undercover journalists that his team of psychological warfare operators had been involved in "33 presidential-level [political] campaigns, 27 of which were successful," according to the consortium's stories.
Reporters from a cadre of well respected news outlets including The Guardian, Der Spiegel, Haaretz, Le Monde, and dozens of others, worked together to investigate the activities of "Team Jorge"—a shadowy cyber firm that claims to do contract work for intelligence agencies, corporations, and political parties. Hanan, who admitted on video that his company is currently "involved in one election in Africa," also said that his team was involved with two "major projects" inside the U.S., though he says he never works at the "party-level [of] politics" in America
Journalists from several of the outlets went undercover disguised as prospective "Jorge" clients, in an effort to tease out the true identity of its CEO and to better understand the activities of the company. In secretly recorded meetings at one of the firm's offices in Modi'in, Israel, Hanan and his brother, Zohar, who also works for the company, claimed that they offered a variety of murky services, some of which sound blatantly illegal. For a high price, "Jorge" allegedly wields hacking tools, disinformation, and blackmail to clandestinely manipulate political races and discredit public figures throughout the world.
Among other things, Team Jorge claims to sell a disinformation software, Advanced Impact Media Solutions, or AIMS, which generates and then leverages hordes of fake social media accounts to manipulate online conversations and communities. Jorge pairs this software with other disinformation tactics, such as fake Facebook groups and blogs, to spread information quickly throughout online ecosystems and to amplify targeted smear campaigns.
AIMS is said to be able to generate convincing social media profiles that can then be used in disinformation operations. The Guardian reports:
Demonstrating the Aims interface, Hanan scrolled through dozens of avatars, and showed how fake profiles could be created in an instant, using tabs to choose nationality and gender and then matching profile pictures to names. "This is Spanish, Russian, you see Asians, Muslims. Let's make a candidate together," he told the undercover reporters, before settling on one image of a white woman. "Sophia Wilde, I like the name. British. Already she has email, date birth, everything."
G/O Media may get a commission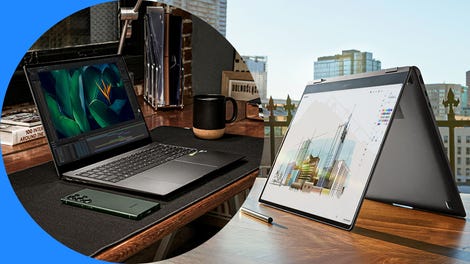 Pre-order now
Galaxy Book 3 Series
Available February 24
Each new laptop model comes with a free storage upgrade. The 1TB version of each is priced the same as the 512GB version which basically means the 1TB version is $200 off.
This kind of automated, "disinformation-as-a-service" platform has been written about before. A report last year claimed that a cybersecurity firm in Russia, 0Day Technologies, was in possession of a similar tool that could manipulate social media trends on a "massive scale" through automated bot account generation and manipulation. However, Hanan's software sounds potentially more advanced than that. For one thing, Haaretz reports that the software can…
…automatically create verified accounts on dozens of websites. These go well beyond Twitter and Facebook, and include communication app Discord and interactive livestreaming service Twitch, as well as websites such as Reddit, Amazon and Airbnb, and even gaming sites.
Hanan also told reporters that his team uses residential proxies—a VPN-like service, that can obscure the true origins of web traffic—to fool the social media platforms on which they operate into thinking the accounts are run by real people.
There are many more bizarre and alarming claims that Hanan made to reporters throughout their conversation. Among the most frightening is that "Jorge" routinely uses hacking operations aimed at insecure internet protocols to break into Gmail and Telegram accounts. During the secretly recorded meeting, Hanan claimed to show reporters an example of an African official whose Telegram account had been hacked. Hanan seemed able to scroll through the official's contacts, messages, and other sensitive information. Such hacking operations are often part of targeted efforts to identify damning information and leak it, or to pick up pertinent information that can then be used to sow division or drama between a particular individual and their contacts.
"One of the biggest thing is to put sticks between the right people, you understand," Hanan told reporters. "And I can write him what I think about his wife, or what I think about his last speech, or I can tell him that I promised him to be my next chief of staff, OK?"
Russia and Israel are also places "Jorge" doesn't meddle, he said. The Guardian further reports that Hanan's company is said to have worked alongside Cambridge Analytica—the now defunct psychological warfare contractor that worked for Donald Trump's presidential campaign in 2016—during a 2015 operation to influence the presidential race in Nigeria.
Who is Hanan, really? Both the Hanan brothers were operating under fake names when interviewed by reporters. However, investigation by the outlets revealed an online biography that claimed Tal Hanan is a former special forces operative who specialized in explosives. He also claims to be the CEO of at least two other companies, Tal Sol Energy, and an intelligence firm, Demoman International Ltd., that is included in an official defense firm register on the Israeli Ministry of Defense website. He has also apparently claimed to have experience training law enforcement agencies, including federal agencies inside the U.S. Hanan has also apparently claimed that Team Jorge has as many as six offices and one hundred employees worldwide.
Trending Products

.