Sharing a review of Les Mills Pilates on LesMills+. If you'd like to try the platform -the workouts are AMAZING – use my link for 30 days free.
Hi hi! How are you? I hope you're having a lovely morning so far. I have a couple of conference calls and am looking forward to a hot yoga class. I'd love to hear what you're up to!
For today's post, I wanted to share a review of the Les Mills Pilates classes on LesMills+ (formally Les Mills on Demand) because I've been loving them lately! It feels SO good to get in a traditional Pilates workout at home, especially since Reformer classes near me are $$$ and I don't know of any nearby mat classes. I'm sharing my full review in this post and if you want to give it a try, my referral link gets you 30 days freeeee.
Les Mills Pilates Review
Pilates was one of my first workout loves! I would do Mari Winsor DVDs – what a legend – and loved that the movements challenged me in a unique way, targeted core strength, and didn't get me super sweaty. 😉 (Sometimes it's nice to go about the rest of the day without needing to shower, or looking like a wet rat.)
I also fell in love with Pilates at our LA Fitness while I was in college; an older gentleman, who was a veteran, would lead us through a mat workout that would have my muscles begging for mercy.
Les Mills Pilates classes contain many of the classic Pilates elements that many of us know and love: the hundred, teasers, side leg series, swan, roll-up, etc. It felt good to do familiar movements, but with the Les Mills incredible cues, instruction, and music that I love so dearly.
Here's how the class is structured:
1) Warm up, featuring movements like hundred, roll-down, baby swan
2) Hundred strength, including hundred, arm pump, leg circles
3) Abdominal series, with moves like double and single-leg stretch, criss-cross
4) Side leg series
5) Back series with swan, single-leg kick, swimming, back extensions
6) Strength/power with movements like the roll-up, teasers, can-can
7) Cooldown, with stretches like the saw, spine stretch, and forward fold
The mat Pilates classes are all around 35 minutes.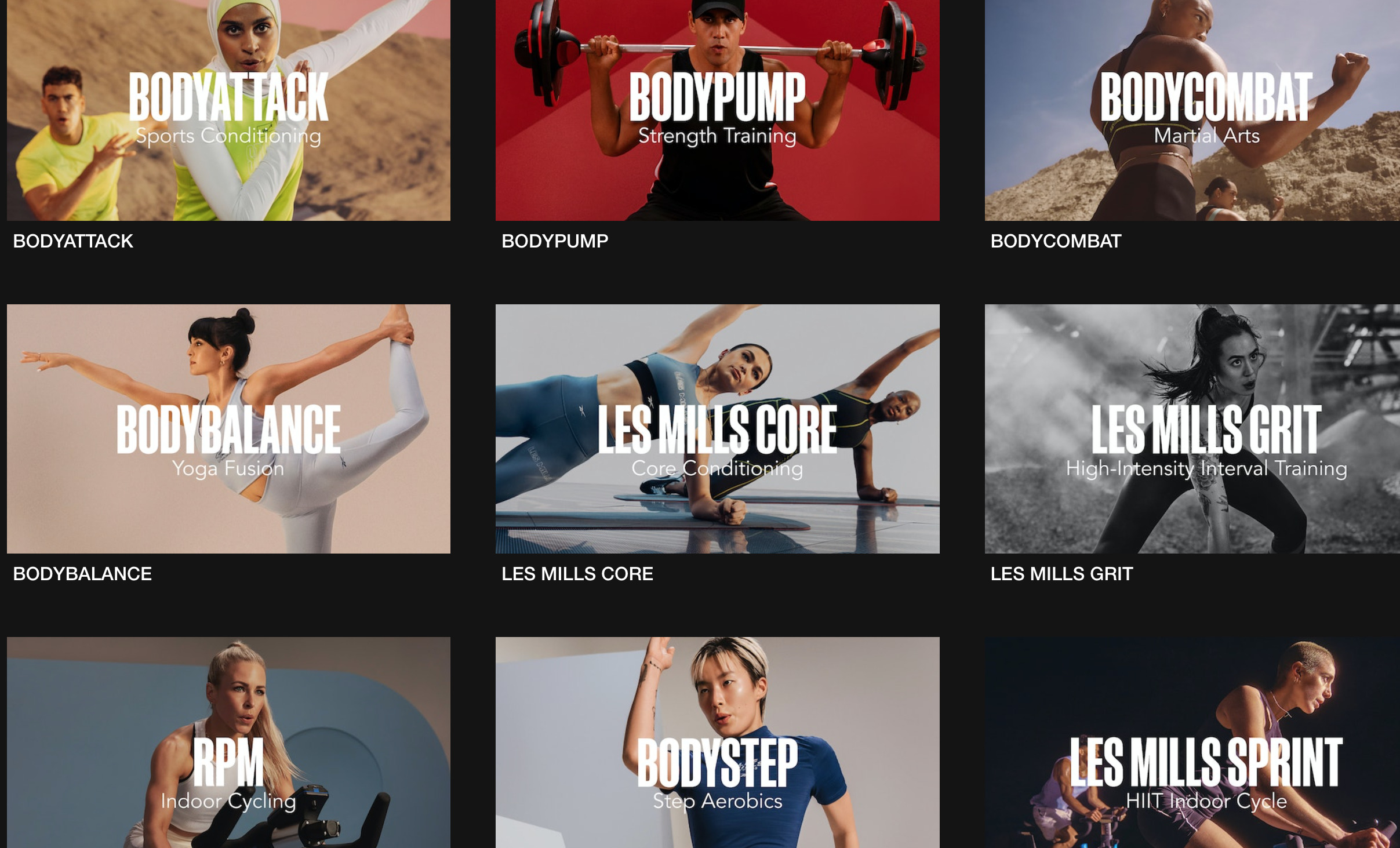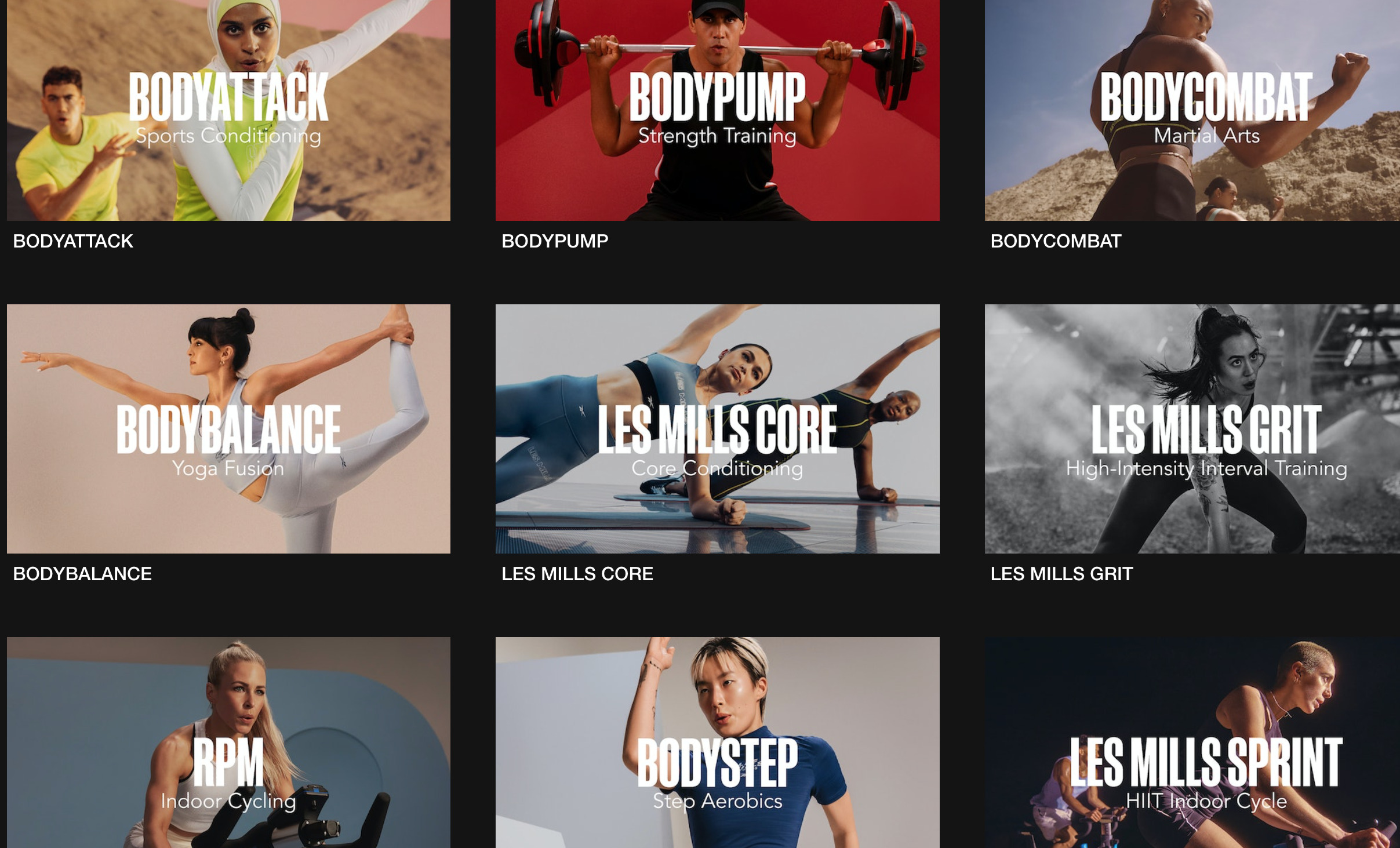 Benefits of Les Mills Pilates
– Easy to follow along and modify as needed. Les Mills workouts have the best cueing and instruction of all of the online classes I've taken (and I've taken a LOT). You will know exactly what to do, and how to do each movement safely and efficiently. Each workout has at least one modifier, who is performing beginner and low-impact modifications during the entire workout.
– Movements match the music. One of my favorite things about Les Mills is that the music matches the exercises. They strategically plan each workout (based on a lot of testing and science, like how many squats you should do at which tempo), and design the playlists to match the movements. I feel like this element makes it much easier to immerse yourself in the workout and is really motivating.
– Low-impact. The mat class contains zero standing, jumping, or joint pounding movements. You're on your mat the entire time and do not stand for the entire workout.
– Focused core strength and breath work. Pilates is an excellent cross training tool because it will challenge your core stability, rotation, flexion, and extension; all movements we want for functional core strength and stability. There are endurance components with multiple reps and isometric holds, all while focusing on strategic breathwork to target the muscles in your core. Core strength can affect our workouts, but also our everyday movements, so I think it's a smart component to add to a traditional strength training routine.
Cons
– Even if you're modifying, it's a LOT of core work. If you've recently had abdominal surgery or are early postpartum, it may not be the best fit.
– They only have as many Mat Pilates class on the app right now as they offer for other classes, BUT they also have INBALANCE and CORE. Both of these classes contain Pilates elements and are fantastic low-impact yet challenging workouts.
What equipment do you need?
All you need for these workouts is a mat!
Les Mills+ Discount code
You can use my link here for a free month of Les Mills+ and check out their equipment here. I have a Les Mills mat that I use at home, along with their foam roller.
So tell me, friends? Are you a Pilates fan or not so much? If you're looking for some cross training to add into your routine, or intentional core work, I highly recommend giving it a try!
xo
Gina
More workout format reviews:
barre3 vs Pure Bare: which one is better?
Pilates chat and why self care isn't selfish
Trending Products

.