In a new oral history of the Raccacoonie scene in Everything Everywhere All at Once, producer Jonathan Wang shared his own deep connection to the standout moment—and how his film made it "Pixar" without, you know, getting sued by Pixar.
It all starts when Evelyn (Michelle Yeoh) is trying to explain to her husband Waymond (Ke Huy Quan) and daughter Joy (Stephanie Hsu) that she's been visited by multiverse versions of them, hacking into their bodies to puppet them in a battle to fight an all-powerful version of Joy. Joy laughs when Evelyn compares it to "Raccacoonie," and asks if she means Ratatouille. For Wang, it was important to depict this cultural moment, knowing that many children of immigrants would relate to it (for instance, my mom calls WandaVision "La Wanda").
"I think it's pretty common when you have parents who are speaking English as a second language: they butcher movie titles," Wang said to Inverse. "[My dad] would call James Bond 'double seven' instead of 'double-O seven.' He would just mess up movie titles all the time. My favorite one he would say was 'Outside Good People Shooting'—that one is Good Will Hunting. So him butchering the titles was because he couldn't really care about it in the way I care about movies. But he wanted to connect and he wanted to watch movies."
That moment would go on to be the basis of an alternate universe where Evelyn works in a teppanyaki restaurant and competes with a too-good-at-his-job chef (played by Harry Shum Jr.), who she later discovers is being controlled by the real culinary talent: a raccoon hiding in his hat. Yes, it's essentially the plot device of 2007's Ratatouille but done in a hilariously heartfelt parody of the Pixar film. The directors even went as far as casting legendary Toy Story and Monsters Inc. singer-composer Randy Newman to voice the raccoon. "This is how [Everything Everywhere directors the Daniels] always do things. They take a really silly idea, but then treat it really seriously. [We thought] it would just be so great if we could get Randy Newman to voice the raccoon and sing the song. And then it would just be parody upon parody. A hat on a hat on a hat. Shockingly, he said yes." Newman also provided a song featured in the Raccacoonie scene and on the film's soundtrack titled "Now We're Cookin'".
Now, when it came to the legalities of it all, one would wonder if Pixar was going to do anything about this live-action homage. Wang was never worried, even as the scene became one of the most referenced moments in the film, not to mention cosplayed during conventions and Halloween. "I never even thought about whether or not we would get a call from Disney or if Pixar was going to be mad. We did a tour of the Pixar campus and got to hang out with [Turning Red animator/director] Domee Shi, and she's so great. We were like, 'Have you guys talked about, uh… us ripping off Ratatouille?'" he said. "Everyone loves it there, and it seemed like no one was really upset. That was the only thing we thought of: are we going to get flagged for this? But lawyers cleared it; everyone cleared it."
G/O Media may get a commission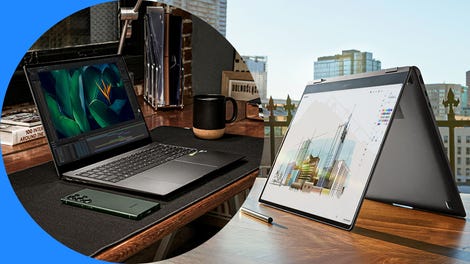 Pre-order now
Galaxy Book 3 Series
Available February 24
Each new laptop model comes with a free storage upgrade. The 1TB version of each is priced the same as the 512GB version which basically means the 1TB version is $200 off.
Watch Everything Everywhere All at Once on digital or home release.
---
Want more io9 news? Check out when to expect the latest Marvel, Star Wars, and Star Trek releases, what's next for the DC Universe on film and TV, and everything you need to know about the future of Doctor Who.
Trending Products

.